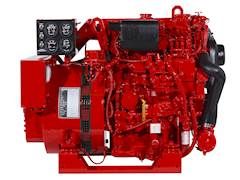 Westerbeke Diesel Genset
Westerbeke Marine Diesel Generators are quietly leading the way. With over 80 years dedicated to developing diesel generators for the marine environment it's clear that Westerbeke has always been one step ahead of the competition.
Designed exclusively for marine applications, Westerbeke's diesel generators represent a breakthrough in compactness, quietness, and reliability that has become the preferred choice of the most prestigious boat and yacht builders. Whether for pleasure craft, commercial ships, or government boat applications today's discerning boat manufacturers will tell you "Westerbeke is our marine generator of choice."
One of the only Genset Manufacturers that offer full torque Power take off interface.
Available in 120VAC & 230VAC output, 50 or 60Hz. Sound Guard SST enclosures also available.