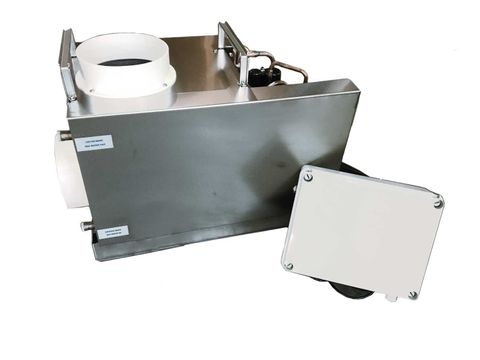 Ultraflex Compact Airconditioning
Ultraflex VELAIR self-contained air conditioners represent a light and solid solution to small and medium boats. They are made of high quality materials (stainless steel and aluminium) and with a design that follows our inverter models one. Thanks to their features, they can be powered by small generators or directly by DC-AC converter from the battery pack. The units have, as standard, the reverse cycle option that converts the A/C machine into a heat pump, able to warm up a boat during cold months drawing the heat from seawater.
The units are supplied with a wall-mounted touch control digital panel easy to install because, being very thin, it can be apply on the wall itself, without the classic rectangular cut. A simple round hole is enough to pass the data cable.
The units are extremely easy to install thanks to the prewired electrical box with a cable bundle that allows the optimal positioning around the machine itself. Unlocking the four screws, it's possible to access directly to the terminal block where to connect the power supply and the sea water pump.
A Wi-FI module has been introduced into the panel. This function allows to reach, monitor and set-up your unit through a dedicated app. When you are on board, the smartphone will speak directly with the unit. When away from the boat, the communication will take place through internet, therefore a wi-fi network in the marina or a router on board is required.b